Multi award winning kitchens and cabinets!
It's the small details that matter most. Work with Ikal Kitchens, and revitalise your kitchen cabinets, laundry and bathroom in Perth.
Perth's Home Renovation Specialists
Our cabinet makers Perth are proud to deliver exceptional custom cabinetry and home renovation services across Western Australia.
Experience the art of luxury with Perth's premier custom cabinet makers
Welcome to Ikal Kitchens, the trusted leader in Perth bespoke cabinetry and home renovations since 1993. Reaching our three decade milestone marks our consistent delivery of excellence in every project we undertake. As a West Australian owned and built business, we have proudly served Perth and surrounding regions with our exceptional craftsmanship.
Being sought after interior renovation specialists, our unrivalled knowledge and expertise allows us to deliver creative custom solutions that have struck an incredibly rare balance of affordable and luxurious. At Ikal Kitchens, we believe that quality should be accessible, which is why we offer custom-made quality at an affordable price.
We are proud multi-award winners, recognised by the Housing Industry Association (HIA) and the Cabinet Makers Association (CMA) for our commitment to excellence. Each accolade stands as a testament to our passion for design and our unwavering dedication to delivering the best for our clients.
Beyond indoor renovations, we also excel in designing and creating bespoke outdoor entertainment areas and alfresco kitchens. Whether you dream of a modern, sleek kitchen or a rustic alfresco dining area, we can transform your vision into a reality.
Whether it's for kitchen cabinets, bathroom renovations, laundry makeovers, or revitalised outdoor spaces the Ikal Kitchens team has the skills, experience and vision to bring your dreams to life. As Perth's home renovation specialists, we aim for excellence in all our projects. Every renovation or build we undertake is a unique, one-off construction, reflecting the distinct style and taste of the homeowner.
Handcrafted opulence through bespoke kitchen renovations and more
From the initial consultation to the final touches, we are committed to making your dream space a reality. Our dedication to our craft, combined with our relentless pursuit for excellence, ensures that every kitchen, laundry or bathroom we design is a statement piece in your home, reflecting your personality and lifestyle.
When you choose Ikal Kitchens, you're not just choosing a company, you're choosing a partner who will walk with you every step of the way. From understanding your vision, to creating a design that meets your specific needs and preferences, to crafting the final product – we are with you at every stage.
Let us show you the Ikal Kitchens difference and bring to life your dream kitchen in Perth. Contact us today and embark on a journey of transformation with the very best in the industry. Here's to excellence, always.
Wide Range of Renovation and Custom Design Services
Our in-house design team features highly skilled conceptual designers who will work alongside you to bring your ideas to life, just the way you want them.
Above all, our skilled cabinet makers are the finest in Perth, dedicated to providing exceptional custom cabinetry and home renovation services across Western Australia. With Ikal Kitchens at your side, you can be assured of receiving a service that matches the prestige of our reputation.
"Design is where science and art break even"– Robin Mathew
At Ikal Kitchens, we understand the uniqueness of every project and respect the individual requirements of our clients. Our process is tailored and adaptable, created to accommodate your needs. Driven by essential feedback over our years in the industry, we have mastered the craft of guiding clients through the harmony of aesthetics, functionality and form.
This is the genesis of your dream renovation. We conduct a brainstorming session to understand your unique needs – your architectural tastes, preferred colour palettes, budget considerations, build size and any constraints. This is a dynamic process, often going through several revisions until we land on a concept that resonates with your vision.
Once we've polished the design concept, we enter the approval stage. This step involves key milestones such as budget estimation, formal approval of the design and cost.
With the design locked down, we move forward to formalise all the necessary paperwork. This includes drafting architectural plans, production drawings, the CMA contract documents, and establishing a payment schedule.
Upon all approvals and with the documents in place, we begin creating your revitalised space. Our dedicated team is assigned to your project, enabling you to track your renovation progress. Our strategic team is also only a phone call away, providing you with constant support and peace of mind.
Crafting unmatched luxury in custom cabinetry and renovations in Perth
With Ikal Kitchens, rest assured that your home renovation project is in expert hands. We guide you through every step, from initial concept to the final touches, ensuring that your renovation journey is as smooth as possible.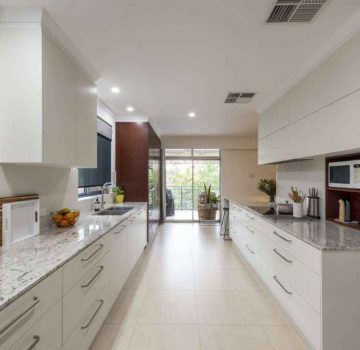 Embrace the blend of style and functionality with Ikal Kitchens. As leading cabinet makers in Perth, we stay ahead of the curve, delivering contemporary designs that exude modern charm. We match the pace of evolving kitchen trends, crafting spaces that serve as the heart of your home. Let us help you design a kitchen that stands the test of time
Technology meets aesthetics at Ikal Kitchens. Our innovative approach combines the latest design tools and techniques to bring cutting edge, stylish kitchens to life. Each project we undertake is a testament to our commitment to technological advancements, from initial 3D modelling to precision installation.
Quality should never be an impossible luxury. That's why at Ikal Kitchens, we've made it our mission to offer sought after, bespoke kitchen designs at an affordable price. Our team of expert cabinet makers in Perth strive to create a space that's not only visually stunning, but also resonates with your lifestyle and budget. With Ikal Kitchens, luxury is within your reach.
Discover the art of elegance with Ikal Kitchens. Our designs, crafted with meticulous attention to detail and superior craftsmanship, exude a timeless elegance. Whether it's the sleek finish of our custom cabinets, or the seamless integration of appliances, every element we incorporate enhances the elegance of your space. Let Ikal Kitchens create a kitchen that's not only functional, but also a stunning masterpiece in your Perth home.
What our Perth renovation clients are saying
Hear from our clients who worked with our custom cabinet makers in Perth and experienced a bespoke renovation.
The very best quality cabinetry produced by an expert team. Travelling to our remote location countless times over 18 years, IKAL have continued to impress us with their perfection, production... read more innovation and practical yet stylish cabinetry solutions. A given contributor to every home project we undertake. Thank you Joe and team!

Carlia Nield


September 20, 2022

From start to finish, Trish and team were a complete dream to work with. The layout of my old kitchen was very irregular and I struggled to get designers in... read more to give me any new ideas. Numerous other consultants said to keep the layout as is. Trish however came up with a number of ideas to try change the layout to suit my needs. I couldn't be any happier with the end product. I really wanted a false door system to hide my garage door and make the kitchen appear larger. IKAL decided to bring me into their workshop to show me a similar set up they were working on for another client. I loved it. The colour choice was super difficult to decide on, but with Trish's help, we picked the perfect colour and I think the colour selection of the handles really set it off. So many people that has seen my kitchen says that it's incredible and I asked to send me on IKAL details on numerous occasions.

Thomas Grannell


January 31, 2022

We have just had our kitchen renovated by Ikal and can't say enough good things about them, a very friendly professional team. The tradespeople all turned up on time... read more as scheduled and were very pleasant to deal with. We were lucky to be dealing with Roger Davis, and nothing was too much trouble for him. We wouldn't hesitate to recommend Ikal.

Patricia Sloss


November 9, 2023

We were recommended Ikal Kitchens by a friend and used them to create a brand new kitchen, laundry, bar and powder room for our full renovations. Although it took... read more some time to be completed due to delays in materials etc the wait was totally worth it. We love our new kitchen and dealing with the staff at Ikal was a very pleasant experience . Nothing was too difficult, everything was explained and all the staff were friendly and professional at all times. We would highly recommend Ikal Kitchens. Angelo & Mary

Angelo Cipollini


July 24, 2022

I can't express my thanks as the team at IKAL went over and above the expectations to produce my dream kitchen, thank you.

Elena Pietersen


October 20, 2023

It's was a great decision to use ikal Kitchen to complete our kitchen renovation and we would not hesitate to recommend them to others. The moment we walked into... read more the showroom we felt comfortable with the people who greeted us. Trisha our designer listened carefully to all our needs used our ideas to create a stunning design. Paul and Darren did an amazing job completing the cabinetry and the tradespeople used where professional and efficient. Thank you ikal for keeping our stress levels to a minimum.

Celine Turton


May 22, 2022

Perfection Researching a functional kitchen design was enjoyable. I wanted to get our renovations right. We view our kitchen as the heart and soul of our home, and I picked the... read more right company to help make it so. Ikal Kitchens understand and know how to design, create, and install kitchens and cabinets. Trish, the designer, was so patient and helpful with all aspects of the design. She listened and gave advice that the lay person may not have thought about. Then, the master craftsman, Paul, visits and adds to any ideas and takes the time to explain. He measures perfectly. Paul and his team of craftsmen built our kitchen to perfection. We are so happy with our new kitchen. This company ticks all boxes, functional designs which include thoughtful workspace area for a family that all pitch in to cook and celebrate. Without a single doubt I highly recommend Ikal Kitchens.

Jasia Hawkins


November 29, 2021

Superb service & very professional.

A J


May 16, 2022

We felt comfortable from the outset with the staff from Ikal Kitchens. We were impressed with their ability to design a more functional layout in our existing space, and... read more since using the finished product we are very happy indeed with the improvement. All their staff were pleasant, responsive and very helpful. Nothing seemed to be too much trouble. Additionally, we were very happy with the trades they recommended (plumbing, electrical, ducting, stonework) and the quality of their work. We are planning to use them again for renovating our laundry.

Mark Hamersley


September 11, 2023
Ac volutpat et nulla ultricies convallis convallis sed. Sit nec risus sit nisl, quis in turpis gravida libero.